Storage and Processors Hosts Manufacturing Day
For the 2nd year in a row Storage and Processors hosted  a tour of their facilities to inspire today's youth to consider careers in modern manufacturing.  The attendees came by the busload, 6 of them in fact.  Over 230 students, teachers and administrators from the
Houston area attended Manufacturing Day at Storage and Processors on October 7, 2016.
As part of their day they toured the Storage and Processors facility, learned more about steel testing with our partner SPS Metallurgical Labs, had a Maritime educational workshop aboard a Port of Houston tour boat, and had a tasty lunch grilled by the Storage and Processors staff.
---
Safety First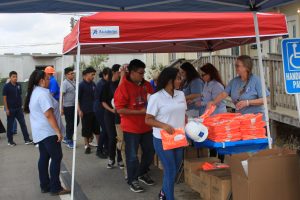 As with everything at Storage and Processors, it starts and ends with Safety, so the first stop was to get all of the PPE that they would wear all day.
Hard hats, safety vests, safety glasses and ear protection were provided for all participants.
---
Next Up…Tours
The Storage and Processors staff walked the future manufacturers through what we do as well as how and why we do it.
From how the steel comes to us, to the various ways we unload, store, tension-level, slit, cut-to-length and ship tens of thousands of tons per year, the Storage and Processor's staff enjoyed sharing how manufacturing is not only interesting; it is a viable, good paying career.
SPS Metallurgical Labs also got into the spirit by welcoming the future manufacturers into the testing lab and explaining why steel gets tested and how the process works.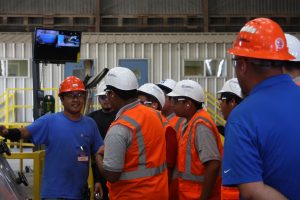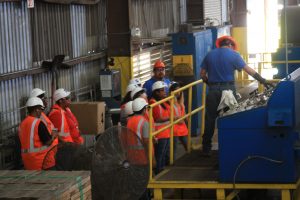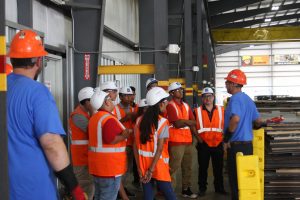 ---
Closing out a Great Day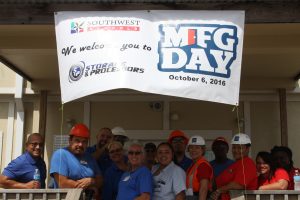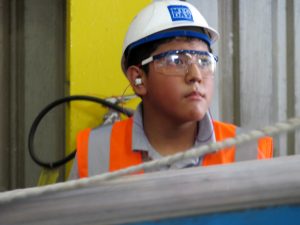 All in all, another great Manufacturing Day at Storage and Processors.  We hope that all enjoyed the day, the burgers and the in-depth look at Storage and Processors and careers in manufacturing.  If we inspired even one person to take a serious look at a manufacturing career it was all worth it.
Thanks to all of the teachers, administrators, students and Storage and Processors staff who worked hard to make Manufacturing Day great.
Learn more about Manufacturing Day on www.mfgday.com or on the FMA Web Site www.fmanet.org